Democrat tax cut (self-service)
There's been a running dialogue in one of the tax nerd publications I read every week about Bill and Hillary Clinton's legal defense funds. These are funds, to which all sorts of people have contributed millions of dollars, that have paid the Clintons' legal bills over Whitewater, Headgate, and those other scandals.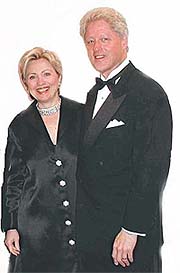 The junior senator from New York and her saxophone-blowin' Bubba apparently have never reported any of the money paid to the funds as income on their income tax returns.
Should they have?
The consensus among the several tax professionals who have written on the subject is that, yes, indeed, payments to or by the funds are income to the Clintons, and should have been reported. When someone else pays your bills for you, that's income to you, unless it's an excluded payment such as a gift. These payments weren't gifts, because the "contributors" either received or were expecting to receive a return benefit from the Clintons (or a benefit from the Clintons' being able to emerge unscathed from their many legal problems).
So these millions should have been reported as income. To my knowledge not a single tax expert has written a word in defense of the Clintons' omission of this income from their tax returns.
Can the Clintons deduct the fees paid to their lawyers? No, at least a large part of them are not deductible, because the legal proceedings had their origins in a personal matter. That activity under the Oval Office desk did not arise out of Bill's trade or business; it was a personal frolic. Even if attorney's fees are paid in connection with his employment, which seems like a stretch but is arguably possible in this case, an employee's business expenses aren't fully deductible. Just ask anyone who pays for their own uniform or work boots.
Is the IRS ever going to enforce the tax laws against the Clintons on this? Doubtful in the extreme.
Isn't that special?