Celebrity look-alike sighting
My daughter and I went to the Trail Blazers' game tonight. It was against my will -- I'm still in my last year of sharing season tickets with some other guys, and it was my turn to buy playoff seats. The game was a rout, with the Blazers winning, which is bad news to me because it vindicates the team's woeful personnel moves over the last three years. I hate to see the thugs come away victorious.
On Sunday, the Portland squad will try to make league history by becoming the first team to lose three games in a series, and then win the last four. They have set records in many other, more dubious departments, and with the momentum they have now, they have a darned good shot. The Dallas Mavericks looked like a sham tonight, and they will be hearing the footsteps of doom behind them for the next 40 hours, that's for sure.
It was tough to spend a couple of hours with a toddler in the Rose Garden. It was just too loud. A nice concierge gave us some earplugs, which helped us both get through.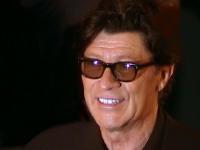 Most interesting occurrence of the night: During one of the timeouts, they ran a feature on the big overhead video screen called "Kiss Me." A series of couples are shown live in their seats next to each other, and urged to smooch in front of the assembled 20,000. At one point, they cut to a couple, and I swear, the guy was a dead ringer for rock legend Robbie Robertson. But it looked like Robbie maybe 15 or 20 years ago; he's pushing 60 now. Either it's Robbie having discovered the Fountain of Youth, or a doppelganger.
The crowd was going wild all night, but let's face it, it was a blowout. The Robbie near-sighting was about as close to genuine excitement as this one got.